New Wines by the Glass
Posted on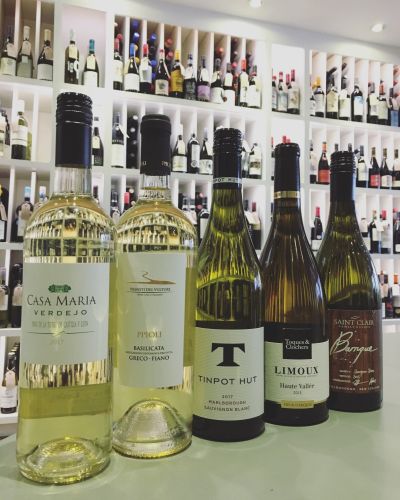 New White Wines By The Glass
(from left to right)
The House White is currently the Case Maria Verdejo from Spain. A steely pale yellow wine, delicately fragrant with hints of green apple and fennel, smooth palate, fresh and dry, witha lingering finish. Enjoy with heavy pasta dishes, fresh fish, or shellfish. (Vegetarian/Vegan).
Pipoli is our next wine on the list. Being a most popular white we sell, it is a great all-rounder. Ticking all the boxes, being a fresh, balanced, fruit-forward wine style. Pale lemon in colour, with perfumes of tropical fruit and a touch of vegetal notes. Rich yet fresh with a lime zest character, which comes from the Greco fruit, balancing the richness. (Vegetarian/Sustainable).
The Tinpot Hut is a classic New World Sauvignon Blanc style. It is a complex and elegant wine with intense aromas of blackcurrant, crushed lemongrass and thyme, mingled with passionfruit and melon highlights. A stylish and pleasingly rich Marlborough Sauvignon Blanc with vibrant aromatics and a fine balance of acidity leading to a lingering finish.
Next on the list is the Limoux. A beautiful Southern France wine that's rich golden in colour, with a floral nose marked by finesse and complexity. Concentrated and well-balanced, the use of new oak confers complex flavours of melted butter, nuts, caramel and toast. There is also a delicious lemony twist in the finish.
Lastly, for our Top White we have a wine that takes the traditional Sauvignon Blanc from Marlborough and adds a unique oak edge. The complex aromas of green coffee bean and vanilla pod are complemented by notes of wild flowers, crushed herbs with just a hint of gunflint. The palate is rich and unctuous with layers of preserved lemon, ripe papaya, cocoa powder and toasted hazelnut with hints of red berry. Why not shake up the style?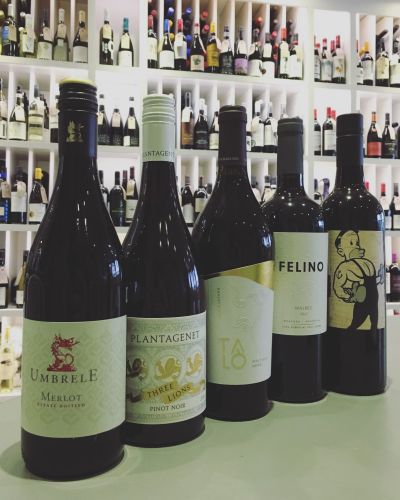 New Red Wines By The Glass
(from left to right)
The House Red is currently the Umbrele Merlot Romania. It's a dark violet colour that is complimented by rich aromas of dark fruits, plum and blackberry, with notes of spice and a hint of vanilla. Medium bodied, but full of jammy fruit flavours- black current, even a hint of dark chocolate, with warm tannins and a fine finish.
The Platagenet Three Lions Pinot Noir is next on the list. A solid staple. This wine is deep garnet red in colour. On the nose, there are lifted aromas of red cherry, forest floor and a savoury complexity that leads into a palate bursting with bramble fruits and toasty oak. This Pinot Noir is beautifully textured with fine tannins and balanced acidity.
Next is the Malvasia Nera from Puglia, Italy. It's a wine that can be enjoyed with or without food. It's intense and complex with a bouquet of ripe red fruits combined with hints of spice. The body is full with delicious flavours of blackberry jam and vanilla notes that holds together by a beautifully smooth finish. Great value for money. (Vegetarian/Vegan).
New in is the Felino Malbec from Mendoza. However, it isn't just the fruity, robust Malbec you might be expecting. Displaying deep-red, violet and blue tones. The aromas of white flowers and black fruits develop into notes of white pepper and cloves. Elegance and balance springs to mind, it delights the palate with hints of liquorice and chocolate. Expect broad yet smooth with a persistent finish.
Lastly, for our Top Red, we have The Boxer, Mollydooker. It's called the Boxer for a reason… It's punching at 16% ABV! The wine is vibrant, complex and jam-packed with a kaleidoscope of flavours. Chocolate, plum and liquorice just to name a few; all beautifully wrapped in bright berry fruit, smooth tannins and impeccable mouth feel. Each sip changes and draws you in for a closer look. Beautiful.