Global Pinot Noir Tasting
Posted on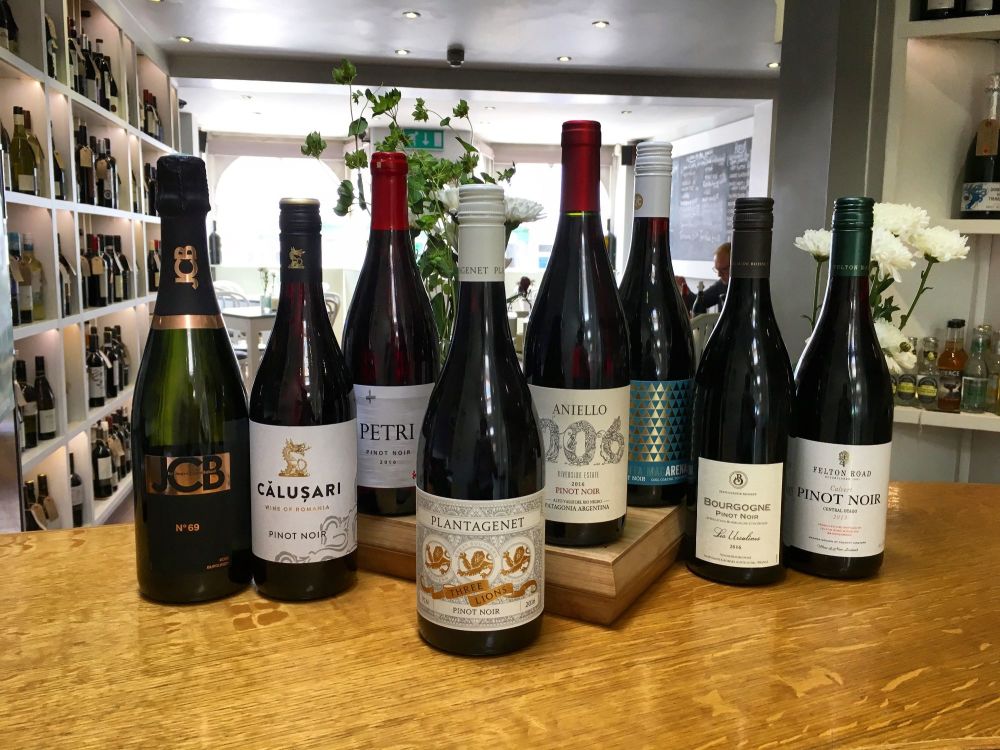 Today's tasting at Symposium we are diving into the world of Pinot Noir.
With eight Pinots being all from unique area of the world, we aim to show the differences in regional and continental influences in the growing and making of Pinot Noir.
Starting with a sparkling Pinot from Burgundy, called JCB by Jean-Charles Boisset. This area is world-renown for making top quality and expressive Pinot Noirs and is thought to be home to "the world's most exhilarating wines".
Romanian wines don't quite receive the international notice they deserve. Although they produce large quantity of wine, the styles of Pinot Noir coming from Romania is very approachable, fruit-driven wines.
Germany is uniquely a world of fine wine, with traditional styles of white wines that are renown for having a wide range of residual sugars. However, German wines are often misunderstood and under-appreciated, partly due to the Germanic names for varietals in English speaking markets. 'Spätburgunder', also commonly know as Pinot Noir, is a late-ripening grape that can have incredible quality as well as numerous styles, ranging from fresh fruit-forward wines to age-alluring wines.
Australia, famous for their variety labeled wines which include the infamous Australian Shiraz. The beginging of the Australian wine industry saw a high production of sherry and port-like wines. Australia are now being recognised in many markets for it's significant quality of varietal led, unfortified wines. Producers are now looking into higher altitude sites for the ability to grow a larger diversity of grape varieties. Of which, quality is certainly showing and venturing away from the mass-produced, fruity, alcoholic wines that were being produced in the early days of the Australian wine industry. Producers are now taking advantage of Pinot Noir in these higher altitude sites to attain a beautifully rich and diverse style of Pinot Noir. Certainly one to try.

Argentina has become famous for their style of Malbec that are fruity, bold and easy-approachable. The greater sites are found closer towards the Andes, of which Mendoza is famous for. With a long history of European influence, historical viticultural techniques and irrigation methods, Argentina has been producing some extremely powerful and complex wines, which are now becoming ever more present in the world of wine. However, Pinot Noir from Patagonia is being recognised globally for its ability to produce clean, beautifully balanced Pinot Noir wines.
Chile were producing wines for export before Argentine wines. They show a diverse range of styles due to the varying change in climates, altitudes and temperatures. Pinot Noir, however isn't highly recognised over the popular Cabernet/Merlot wines being produced, and so, Pinot Noir is predominantly produced around Casablanca, of which have some oak influence. Fruity, approachable with occastional addtion of oak to soften the wines. A good alternative to the other popular wines from Chile.
Lastly, New Zealand. Although famous for the world-renown Sauvignon Blanc, Pinot Noir is recognised for its outstanding quality, especially from Central Otago, South Island. The climate here is continental, with warm days and cold nights. These extreme changing in temperature give the grape an incredible concentration of fruit. The styles of Pinot Noir are harmonious, rich and have great depth. Wines from here should definitely be tried.